The Basel Brass Quintet was founded in 1986 by five soloists of the Sinfonieorchester Basel. Since its creation, the ensemble has presented a fascinating and richly diverse repertoire, promoting the sound of brass instruments in practically unknown original works and transcriptions. Most of the arrangements are done by members Jean-François Taillard and Marc Ullrich.

The Basel Brass Quintet's intense work with the Schola Cantorum Basiliensis (academy of ancient music in Basel) has provided the solid foundation for style and historical practice of renaissance (Gabrieli, Scheidt, Schütz, etc.) and baroque music.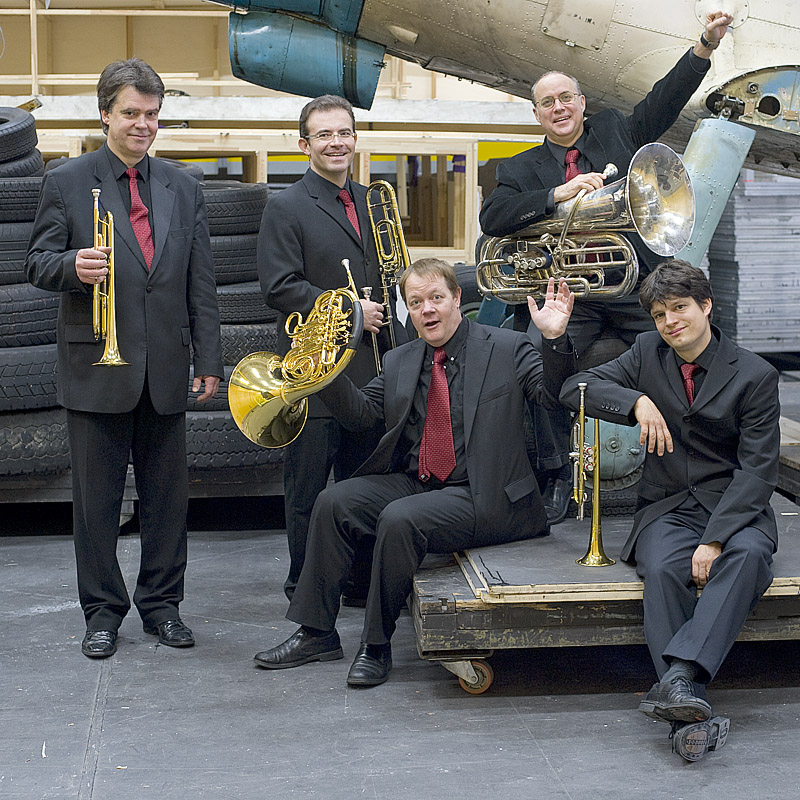 © Jean-François Taillard


In a review of the ensemble's CD (Aurophon CD AU 32315) entirely dedicated to Johann Sebastian Bach, the International Trumpet Guild Journal wrote:

"It is sufficient to say that each of these works receives a meticulous rendering. The lines are clear because of the carefully delineated counterpoint, appropriately chosen ornamentation, and precise articulations. In short, the Basel Brass Quintet's Johann Sebastian Bach provides an absolutely impeccable and thrilling performance."

The Basel Brass Quintet has recorded many videos (for the German S3 broadcast) and other radio recordings, including a world premiere of the extremely difficult and sophisticated brass quintet by American composer Richard Dobkowsky.

Fred Mills, the fabulous former trumpet player of the Canadian Brass, absolute reference for brass quintets, has asked the Basel Brass Quintet to give mastercourses and concerts for one week in March 2005 in the USA.

The Basel Brass Quintet is at present preparing an audio CD entirely dedicated to French composers (Arban, Ravel, Fauré, Debussy).


J.S. Bach, Fantasia super "Komm, Heiliger Geist".
Franz von Suppé, Overture to "Die schöne Galathee" (recorded in Théâtre de la Coupole, 17/09/05).





Last upadte: 17/02/13










Johann Sebastian Bach
(Aurophon CD AU 32315)





Symphonic Brass, Fred Mills
(Radiokiosk CDE 1571)







The free arrangements from Jean-François Taillard are to be found at:
www.free-music-scores.com